Keeping Yorkshire's taps running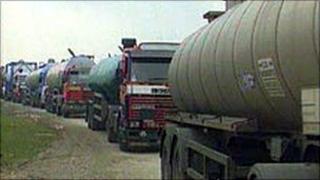 Sixteen years ago I stood on a hill overlooking the M62 in West Yorkshire to see the extraordinary sight of one lane entirely filled with tankers.
The queue stretched back for miles.
They were carrying drinking water to be dumped into the reservoir which supplies the town of Halifax.
The population had just 10 days' supply left.
Britain's biggest mobilisation of tankers since World War II did the trick - but only just.
What angered all the West Yorkshire towns threatened with stand pipes and draconian restrictions was that through a crisis that lasted 18 months, a third of the available drinking water was leaking into the ground.
Cut by half
Weather conditions created the drought but a chronic lack of investment in repairs and replacement supply pipes made it far worse.
As a result, since then all the water companies in England and Wales have been set annual targets for leakage reduction.
Yorkshire Water says it met those targets for over a decade and has cut its leaks by half.
"We have a proud reputation for investment," veteran executive at the company Bob Lloyd told me.
He was talking to me as we stood watching a £15 million project to replace old cast iron water mains in the Leeds suburb of Middleton - water mains which had originally been installed in 1947.
Abysmal reputation
But just two days before that interview for the Politics Show for Yorkshire and Lincolnshire, Ofwat announced that Yorkshire Water has failed to meet its leakage reduction targets for the past two years.
Ofwat has launched an investigation.
"You have to remember what sort of winter we have had," said Bob.
"We had a record number of bursts due to the extreme cold but we are now back on track. It has made the statistics look bad but has not made any difference to our operations."
To be fair, other companies also failed to meet their targets but Yorkshire Water has the most to lose.
It has worked hard to turn around the abysmal reputation for corporate complacency it achieved in the 1990s.
Bath gaffe
Remember this is the company whose highly-paid chief executive advised customers to follow his example and save water by not having a bath.
He later admitted that he nipped over the border to Lancashire to soak himself in a relative's tub.
He left the company shortly after that gaffe.
But a new management regime has repaired its reputation by pouring money into replacing pipes and spending another £300 million building a grid which can now shift water from areas of plenty to drought zones at the flick of a switch.
Squeezed hard
This latest revelation could not have come at a worse time for the water companies.
The government is preparing proposals for a new Water Bill to prepare the industry for an era of climate change and a big rise in demand.
A White Paper outlining those proposals is expected in the autumn.
Water companies could find the regional monopolies they inherited after privatisation in 1989 squeezed hard with much higher demands for infrastructure investment and extra competition introduced.
Shadow Environment Secretary, Wakefield Labour MP Mary Creagh, is already demanding that the government shows more leadership.
She made her remarks following the recent restrictions imposed to tackle water shortages announced by neighbouring water companies Severn Trent and Anglian Water in Lincolnshire and further down the East coast.
The irony is that as we filmed rain clouds threatened and then soaked us to the skin.
Politics Show for Yorkshire, Lincolnshire and the North Midlands - Sunday June 19 from 1200 BST