Cordon remains after Falmouth Docks fire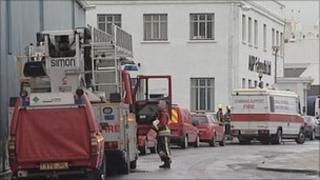 About 150 people have spent the night away from their homes as a cordon remains around the site of a fire at Falmouth Docks.
The blaze started among acetylene cylinders outside a warehouse at the docks on Friday morning.
Police temporarily lifted a 300m exclusion zone early on Saturday, but reinstated it after firefighters found one hot and several warm cylinders.
Police said roads around the docks remained closed.
There were no reports of injuries in the fire, and many of the cylinders involved were believed to be empty.
Those moved away from the site included 60 students in an accommodation block. The Ships and Castles Leisure Centre was also shut.
People were put up overnight at the Falmouth Hotel and Cornwall Council also set up a respite centre at the Emmanuel Baptist Church.
Sea Shanty Festival
Fire crews stayed at the scene overnight, cooling the cylinders.
Nigel Vincent, of the Cornwall Fire and Rescue Service, said: "It might sound as if we're just pouring water on cylinders, but there are a lot of issues in dealing with that.
"Our foremost consideration is the safety of our crew, and the impact on the public.
"Acetylene, by its very nature, is quite unstable and, when involved in a fire, creates essentially a bomb.
"That's the issue that we have - to keep the cylinders cool and reassess them on a regular basis."
Organisers of the seventh annual Sea Shanty Festival in the town said the weekend-long event was going ahead, despite the cordon around the docks.
Parts of the A39 remained shut because of the restrictions.
Coastguards have also been involved in the incident.
Phil Mathius from Falmouth Coastguard said: "We have been assisting in traffic control [on land], and we've also been trying to police the sea-ward side as well."