Rare brown long-eared bats found on Isles of Scilly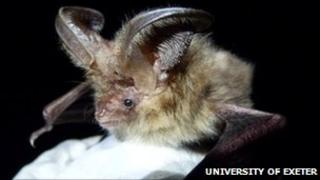 A Devon biologist has discovered a species of bat breeding on the Isles of Scilly not seen on the islands for about 40 years, a university says.
The brown long-eared bats were found on the islands off Cornwall by Dr Fiona Mathews, from the University of Exeter.
A postgraduate student and a team from the Wiltshire Bat Group were also involved in the discovery.
Dr Mathews said the team was excited because a pregnant female which was found might mean a breeding colony.
Improving habitats
The Isles of Scilly Bat Group called in Dr Mathews and her team to help them find out more about bats on the islands, the university said.
The team was working on solving a mystery surrounding the annual disappearance of the large common pipistrelle bat colony on St Mary's. It found that they had moved to a new site.
However, it also discovered the brown-long eared bats roosting in a pine tree.
Dr Mathews said: "We found this individual roosting in an old split Monterey pine tree planted by the shore as a wind-break, and feeding along avenues of elm trees.
"Now we know the bats are there, local conservation organisations can start to improve the habitat for them."
Brown long-eareds, which have ears that are three-quarters the length of their head and body, were last seen on the Isles of Scilly in the 1960s.
They only come out to fly when it is too dark to see them, and feed mainly on moths and caterpillars.
The bats are very reliant on woodland for shelter, which is in short supply on the islands.
Dr Mathews said: "The last known colony on the Isles of Scilly disappeared when their roosting site in a building was lost and now we have a chance to reverse their fortunes."
The islands' bat group said studying the brown long-eareds would be one of its priorities over the next few years.