Rare plant boost for North Pennines hay meadows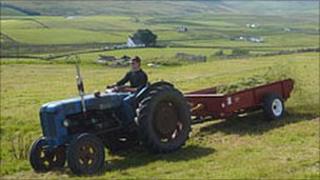 A project to restore rare grassland habitat in the north of England has begun reaping rewards, according to recent research.
The North Pennines Area of Outstanding Natural Beauty (AONB) is home to many of the UK's last upland hay meadows.
However, many of the unique plant species have been in decline.
Under the Hay Time scheme farmers have been harvesting seed from hay meadows rich in wildflowers to spread on nearby ones which have lost them.
Botanical monitoring data has now shown that in 24 of the 30 meadows monitored there has been an increase in the number of plant species.
Ruth Starr-Keddle, the partnership's hay time project officer, said: "Plants that we have found to be very successful at establishing following seed addition include yellow rattle, common bent, eyebright, wood crane's-bill, ragged robin and lesser trefoil.
"These interim results serve to give us confidence that the approach we are taking works and that over the coming years we can expect to see more and more plants establishing in meadows where seed has been spread."
The AONB spans Cumbria, Northumberland, County Durham and Teesdale.