Churches given Heritage Lottery Fund grants for repairs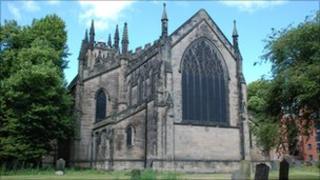 Almost £700,000 is to be spent carrying out urgent repairs to some of the East Midlands' most important Grade II-listed churches.
Buildings including the Greek Orthodox Church of the Virgin Mary in Nottingham and the Serbian Orthodox Church of St George, Leicester, will benefit.
The grants, from the Heritage Lottery Fund, will be distributed by English Heritage.
In total, about £8m has been awarded to 67 places of worship across England.
The other churches in the East Midlands to receive funding are the Church of St John in Alkmonton, Derbyshire; Christ Church, High Peak; the Church of St Martin in West Lindsey, Lincolnshire; United Reformed Church, Ashfield, Nottinghamshire; and the Church of St Katherine in Rowsley, Derbyshire.