South West Trains to stop accepting cheques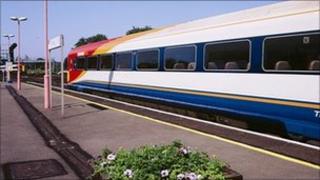 Rail companies covering the south of England are to stop accepting payment by cheque this month.
South West Trains, which runs services into London Waterloo, will no longer accept cheques from Sunday.
The South West Trains network covers Hampshire, Surrey, Dorset, Wiltshire, Berkshire, Devon and Somerset.
Southeastern, which operates services in south London, Kent and East Sussex, and Southern trains will stop taking personal cheques from 30 June.
'Timetable set'
A spokesman for South West Trains said it was because the banking sector was phasing out cheque guarantee cards in the UK.
The Payments Council has set a timetable for phasing out cheques by 31 October 2018.
The council said it would only close the system if there were alternatives available and people found them acceptable.
The cheque guarantee card scheme ends on the 30 June.
A spokesman for the Association of Train Operating Companies said: "Train companies will continue to accept cheques right up until the date that the cheque guarantee cards are being withdrawn.
"This is in contrast to vast majority of other retailers, many of whom stopped taking cheques a long time ago."