Southeastern in new compensation system for passengers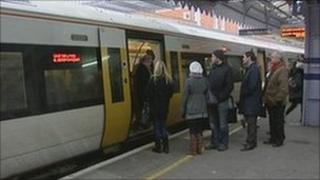 Southeastern is to announce plans for a new system that will make it easier for passengers to claim money back if trains are late.
The "delay-repay" compensation system is due to be introduced in July.
Season ticket holders will be entitled to half of the fare if their overall trip is delayed by 30 minutes.
Last winter, passengers affected by delays were not entitled to a payout as Southeastern had exceeded its annual punctuality target by 0.04%.
The company, which operates services in south London, Kent and East Sussex, ran an average of 82.04% of trains on time during 2010, beating the 82% target below which it had to pay compensation.
After the punctuality figures were released in January, some MPs and passengers demanded they were checked again.
'Red letter day'
An investigation by BBC South East also discovered the good punctuality figures for the new high-speed Javelin trains had pushed up the overall average.
However, an independent audit of Southeastern's train services found the punctuality figures to be correct.
The Conservative MP for Tunbridge Wells, Greg Clark, said the introduction of the new compensation system, which will also enable passengers delayed for more than an hour to claim a full refund for a single fare, would be a "red letter day for rail passengers".
He said it would provide "very welcome relief" to many of his constituents who had "had a very raw deal over the past few years".
Mr Clark said he had asked Southeastern's managing director, Charles Horton, earlier this year whether he would consider changing the system to "delay-repay", used by other UK rail companies.
"It's great news that they are going ahead," he said.