London 2012 volunteers sought at University of Warwick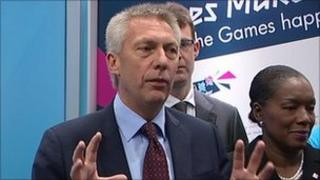 People hoping to become volunteers at the London 2012 Olympic and Paralympic Games are to be interviewed at the University of Warwick.
An estimated 7,000 people based in the region will be interviewed for Games Maker posts until 7 August.
It is the eighth of nine selection events, with an estimated 100,000 hopefuls being interviewed across the country.
The people being interviewed applied for volunteer posts last year.
Former Olympic athlete David Moorcroft, who is based in Coventry, was among those who attended the launch at the university on Wednesday.
Second stage
About 170 people a day are expected to be interviewed at its Sports Centre for roles around the UK, including in Coventry, which will host Olympic football.
A total of 250,000 people applied to become part of the London 2012 Games Maker programme before applications closed in October last year.
The London Organising Committee of the Olympic Games and Paralympic Games (LOCOG) is now selecting an estimated 100,000 to attend an interview for up to 70,000 roles.
Mr Moorcroft said such volunteers were "vital to the success of the Games".
He said: "Athletes rely on volunteers to ensure they can focus 100% on the task in hand.
"For anyone watching the Games, it is the volunteers that will make London 2012 the greatest show on earth."