Levi Bellfield trial jury discharged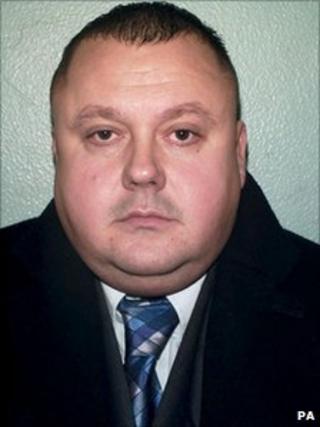 The jury considering a charge of attempted abduction against Milly Dowler's killer Levi Bellfield has been discharged.
Defence lawyers cited an "avalanche of adverse publicity" following his conviction on Thursday for murdering the 13-year-old in Surrey in 2002.
Bellfield faced a charge of attempting to abduct Rachel Cowles, who is now 21, but there will be no retrial.
Mr Justice Wilkie imposed a whole-life prison tariff.
Lawyers for the defence highlighted comments in newspapers attributed to at least two former partners and comments in television interviews.
The judge discharged the jury and closed the case, describing some of the coverage as "deplorable".
He said the "the trigger had been pulled too soon" by the media.
Mr Justice Wilkie said he had referred the case to the Attorney General with a view to taking contempt of court proceedings.
A spokesman for Attorney General's Office said: "Media coverage following the conviction of Levi Bellfield for the murder of Milly Dowler has been referred to the Attorney General.
"He will consider whether there has been possible contempt of court."
Following Bellfield's sentencing Surrey Police apologised to the Dowler family for mistakes made during the investigation.
Assistant Chief Constable Jerry Kirkby said: "We must accept that mistakes were made and the chief constable has met with the Dowler and Cowles families and apologised."
Outside the Old Bailey Det Ch Insp Maria Woodall paid tribute to Ms Cowles' courage in facing Bellfield in court.
'Truly awful experience'
Ms Cowles said she was "hurt and angry" by what she called media coverage which had "robbed her of justice".
Det Ch Insp Woodall said Milly's family had been "tortured by the actions of this devious, dangerous man".
Milly's mother Sally said the trial had been a "truly awful experience" but "at last the man responsible for the cruel murder of our darling daughter" had been brought to justice.
Mrs Dowler said Milly had been defamed in court but she had been a "happy, vivacious and fun-loving girl".
Earlier Mr Justice Wilkie described Bellfield as a "cruel and pitiless killer".
He said Bellfield had "subjected Milly Dowler, a 13-year-old girl, to what must have been a terrifying ordeal, for no reason other than she was in the wrong place at the wrong time, and became a target of the unreasoning hatred which seems to have driven him.
"He robbed her of a promising life, he robbed her family and friends of the joy of seeing her grow up into a self-confident, articulate and admirable young woman.
"He treated her in death with total disrespect, depositing her naked body, without even a semblance of a burial, in a wood far away from her home, vulnerable to all the forces of nature."
The judge also branded Bellfield a coward saying "he has not had the courage to come into court to face his victims and receive his sentence".
Relatives of the 13-year-old schoolgirl hugged each other when Bellfield's sentence was read out.
Her mother Sally and sister Gemma, 25, collapsed after hearing the verdict.
During the trial it emerged that police knocked on the door of Bellfield's flat in Collingwood Place 11 times but did not try to contact the letting agent to trace him.
Jurors were also told that Bellfield was convicted in 2008 of murdering 19-year-old Marsha McDonnell and French student Amelie Delagrange, 22.
He is serving life sentences for both crimes.
He is also serving a sentence for the attempted murder of Kate Sheedy, 18.
It was after he was arrested by London police in November 2004 for the murder of Ms Delagrange that he became a suspect in Milly's murder.
Milly's remains were found in Yateley Heath Wood, Hampshire, six months after she was last seen.