Shoreham airport: Pilot killed in aircrash is named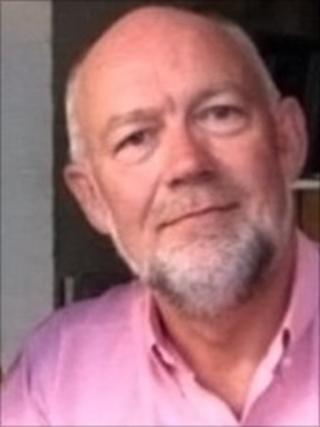 A pilot who was killed when his light aircraft crashed near Shoreham Airport in West Sussex has been named by police.
Alan Weal, 62, of Arlington Avenue, Goring, near Worthing, died when the plane hit the ground and caught fire after a collision with another plane.
Sussex Police said it appeared he steered the plane away from homes during the crash on Monday.
The Air Accident Investigations Branch (AAIB) are investigating the incident.
'Avert greater tragedy'
His family issued a statement, which said: "Alan was a captain for British Airways for many years who flew all over the world and lived life to the full.
"He loved aeroplanes and when he retired from BA, he built his own light aircraft.
"His extensive flying experience helped avert a tragedy greater than that so sharply felt by his family; his mum, wife, two daughters, three grandchildren and his many friends.
"He will be sorely missed by everyone who knew him."
Carl Foulkes, who was walking with his family, said Mr Weal just managed to swerve the plane away from them.
He added: "I actually believe he was on collision course towards us.
"In the last seconds, as I was running and looking back, the plane sort of dipped to the left and just steered away from us and just crashed almost instantly."
Supt Neil Honnor, of Sussex Police, said: "This was a very tragic incident.
"It would appear that Mr Weal tried to avoid local houses and managed to crash into the open recreation ground.
"Our thoughts are with his family and friends at this time."
No-one in Adur Recreation Ground was injured when the aircraft crashed at about 1630 BST.
The other aircraft involved, a Diamond DA40, landed safely. Its two crew members were shaken but uninjured.
Witnesses said the planes collided shortly after one of them had taken off from Shoreham.
One of the planes involved belonged to Flying Time Aviation, based at Shoreham Airport, which trains pilots.
The wreckage was strewn over a wide area and Sussex Police cordoned off the crash site and land at Beach Green.
The A259 was also closed in both directions and traffic on Monday following the incident.