Uncovering Oscar Nemon's sculptures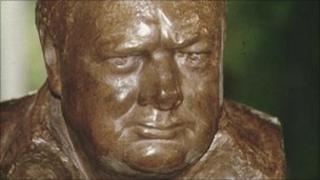 The famous sculptor Oscar Nemon is the father-in-law of the Conservative MP and Leader of the House of Commons Sir George Young.
Soon after Margaret Thatcher became Prime Minister Nemon started work on a sculpture of her head, which led Sir George to ask loudly in the House of Commons tea room:
"Margaret, how is your bust coming on?"
He lost his job shortly after.
Secret busts
Nemon had many famous "sitters" including The Queen, the psycho-analyst Sigmund Freud, Winston Churchill, and Princess Diana.
His daughter Aurelia Young has been looking through the family archives to identify some of the other people from the Oxfordshire area that he immortalised in bronze.