Fish discards 'absolutely criminal' says fisheries head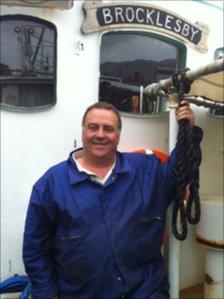 Throwing back dead fish to satisfy EU quotas has been branded "criminal" by a leading fisheries figure for Norfolk and Suffolk.
Paul Lines, chairman of the Anglia Fishermen's Association, said it was "disgusting things got to this stage".
Despite a call for "discards" to be scrapped under new EU fishing reforms, he said many of the outlined proposals would only benefit a "select few".
"It'll work if you sit in an office and make it work," said Mr Lines, 53.
Major plans announced by the European Commission to reform the Common Fisheries Policy include giving fleets quota shares guaranteed for at least 15 years.
Discards from overfishing will also be phased out - the practice whereby up to half the catch of some fish is thrown back into the sea to avoid going above the quota.
"It all depends how they go about proportioning the fish," said Mr Lines, a part-time fisherman at Great Yarmouth and director of a firm leasing vessels to the offshore wind industry.
"If you land everything you catch and can't grade stuff out, that leads to a whole problem of marketing because you'll find there wouldn't be a sale.
"A lot of the species and size of fish that you'd be made to keep you'll probably find there isn't a very lucrative market for that.
"You might have a boat load of fish and used up a big chunk of your quota, but it's worthless."
Mr Lines agrees the sustainability of the industry is important as "future generations" need to have fish, but said the EU had taken too long to solve many of the problems that were outlined decades ago.
"They've been 40 years trying to get an answer and any decision ever made will be overruled by the Dutch because they're a powerful fishing nation."
Great Yarmouth and Lowestoft once had a lucrative herring industry, but no more full-time fishermen now sail from the docks.
Vicky Ford, Conservative MEP for the East of England, welcomed the new EU fishing proposals saying they were a "good start".
Related Internet Links
The BBC is not responsible for the content of external sites.