High speed rail debate hots up: MPs join war of words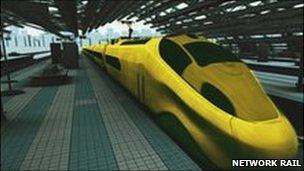 It's like Marmite: you love it or hate it but you can't be undecided.
HS2 is either a vanity project and a waste of money or it is a transformational scheme which will rebalance the British economy.
And by one of those coincidences that happen only in politics, two unrelated but simultaneous sequences of events have conspired together to sharpen the debate.
The six month statutory consultation period, due to end on 29 July, has witnessed a storm of protest along the proposed route.
Once-sleepy Warwickshire villages like Ladbroke and Burton Joyce have become hotbeds of protest and dissent with local people parading their mascot: yes, inevitably, it's a white elephant!
They have just returned from a fact finding trip to the high-speed lines in Germany and France. The MPs say they could find no one who thought we in Britain should not follow their lead.
This week, the two converged: the select committee questioned opponents of HS2 including Jerry Marshall, the chairman of Action Groups Against High-Speed (AGAHST).
Action Groups Against High-Speed Trains is the umbrella organisation co-ordinating what might otherwise have become a haphazard assortment of local campaigns, some driven by environmental issues, others more concerned with the fortunes of the local golf club.
Mr Marshall did not pull his punches.
The reduced journey times would produce 'very marginal benefits' which did not justify even the initial £17bn stretch between London and Birmingham, let alone the full £36bn network between London and Scotland.
There is a general recognition among supporters of the project that the opponents of HS2 have made much of the early running.
Significantly, an all-party group of MPs has come together to talk up high-speed rail.
Their Secretary, the Labour MP for Birmingham Edgbaston, Gisela Stuart, sees HS2 as the essential mechanism for reconnecting our more, and less, prosperous regions and combating the threats of the two-speed economy.
And so the debate goes on.
With the results of the public consultation not due to be made known until the end of the year, we're not exactly on the fast track...