Jury retires in Downview prison sex trial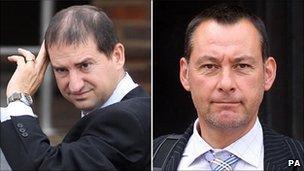 The jury in the trial of two prison officers accused of having sex with inmates in Downview Prison in Sutton has retired to consider its verdict.
Russell Thorne, 41, of Sutton, Surrey, denies two counts of misconduct in public office.
Jurors heard he had a three-year affair with one prisoner who at one point feared she was pregnant.
His co-accused, officer Simon Dykes, 45, from Dorking, denies six counts of the same offence.
Mr Thorne, who was acting governor, demanded a frightened inmate perform a sex act on him, saying: "It's an order", the court was told.
He admitted having "fantasy" sex discussions with some inmates but described claims he slept with prisoners as "ridiculous".
The trial at Guildford Crown Court was told Mr Thorne was "shocked" when the allegations were put to him by detectives.
Mr Dykes was accused by four women at the jail of sleeping with them, while two others claimed he touched one of them and performed a sex act outside the other's cell.
All the offences were alleged to have happened between 2006 and 2010.
Related Internet Links
The BBC is not responsible for the content of external sites.