Electric cars 'viable solution': West Midlands study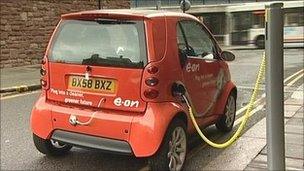 Electric vehicles offer a "viable urban transport solution", according to the results of a 12-month government-backed study.
Motorists have been trialling about 50 cars using charging points in Coventry and Birmingham since last year.
It is the largest study into long-term low carbon vehicle use, experts said.
Up to 77% of journeys undertaken lasted less than 20 minutes and only 2% used more than 50% of the battery, they added.
Last summer, 36 charging points for electric cars were set up in the two cities after a range of vehicles, such as Mitsubishi i-MiEV cars, were given to test drivers.
"The data, taken from 25 Mitsubishi i-MiEVs and 20 smart fortwo electric drives during the course of the trial, shows that in spite of initial scepticism surrounding the capability of EVs (electric vehicles) and concerns over range anxiety, they are more than capable of meeting the needs of drivers that require efficient urban transportation.
"This is reflected by the finding that most journeys undertaken (77%) lasted less than 20 minutes and only 2% used more than 50% of the battery - enabling a return journey to be made without the need for recharging in the majority of cases.
"The data also showed a trend towards drivers travelling longer journeys over time - indicating increased confidence and reduced range anxiety."
The project - Coventry and Birmingham Low Emission Demonstrators (CABLED) - involves 13 organisations and is one of several government measures trying to increase the use of low carbon vehicles on the roads, a spokesman said.
Aston University monitored the data from the cars.
A spokesman from the university said the battery range "more than covers" most users' needs, with most drivers finishing their daily journeys with more than 40% charge remaining.
Typical users only need to recharge every two to three days.
Project leader Neil Butcher said: "These findings form part of the largest study of low carbon vehicle use ever compiled and, whilst our study is ongoing, it's already clear that EVs offer a viable, practical urban transport solution.
"We must now consider how our homes, offices and public spaces will need to evolve in order to cater to both users' needs and the rapidly developing technologies powering these vehicles."
Related Internet Links
The BBC is not responsible for the content of external sites.