Rothersthorpe remains are murder victim Andrzej Kulesza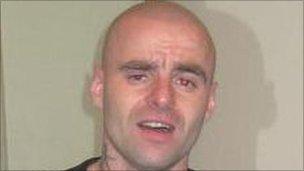 Human remains found in a field in Northamptonshire are those of a murdered Polish man, police said.
The body of Andrzej Kulesza, 27, from London, was found near Rothersthorpe close to Junction 15A of the M1, on 25 April.
Detectives from the Metropolitan Police believe Mr Kulesza was kidnapped on or after 18 September.
A 22-year-old man has been arrested and bailed on suspicion of kidnap and murder.
Mr Kulesza had been reported missing after being last seen leaving his home in Stamford Hill at about 0800 BST on 18 September.
He went out to buy milk and bread at the local shop but never returned home.
Shortly afterwards Mr Kulesza's girlfriend began receiving ransom demands.
She paid a quantity of cash but Mr Kulesza was not returned and all telephone calls ended on 21 September.
On 25 April a woman walking her dog found bones in a field near Rothersthorpe.
Det Ch Insp Jacqueline Sebire said: "So far it is not clear how Andrzej was kidnapped.
"He would not usually have left the house at that time so perhaps he had arranged to meet someone who then orchestrated the abduction.
"We believe he was killed shortly after the ransom demands stopped.
"We would ask anyone with information or anyone who witnessed suspicious activity either in Stamford Hill that day or in the Rothersthorpe area to contact us as soon as possible".
Related Internet Links
The BBC is not responsible for the content of external sites.