Milly Dowler family meets Cameron in phone hacking row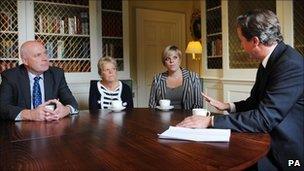 Milly Dowler's family met the prime minister in Downing Street after claims the murdered 13-year-old's phone was hacked by the News of the World.
Milly's parents Bob and Sally, along with her sister Gemma, arrived at Number 10 shortly after 1400 BST.
They have already had meetings with Labour leader Ed Miliband and Deputy Prime Minister Nick Clegg.
Downing Street said that Mr Cameron's meeting with the Dowler family was "constructive".
The meeting was arranged by the Hacked Off campaign, which is pushing for tough action on alleged phone hacking.
The Dowler family's lawyer, Mark Lewis, said it had been an "earth-shattering week for everyone concerned".
Speaking at a press conference in Downing Street after the meeting, Mr Lewis said the Dowlers were "very grateful to the prime minister for another excellent meeting".
"At the start of this week the Dowler family wanted to have their voices listened to on behalf of them and on behalf of Milly and on behalf of all the other victims of unlawful activity by the press," he said.
"There will now be a full public inquiry for the public, not a political inquiry for the politicians."
Mr Lewis was joined by Martin Moore and Brian Cathcart, from the Media Standards Trust (MST), and campaign supporters Evan Harris and former senior police officer Brian Paddick.
Mr Cameron's official spokesman said: "The Prime Minister has been keen throughout to underline the fact that we should be focused on the victims.
"This was an opportunity for him to hear first-hand from that family what they have been through."
The Dowler family met Mr Miliband at Westminster on Tuesday to urge him to push for an in-depth investigation, even though it may cause embarrassment to senior politicians.
On Monday, Mrs Dowler and her daughter met Mr Clegg, the Lib Dem leader, to discuss the hacking row, calling for News International chief executive Rebekah Brooks to resign.
Mrs Brooks was News of the World editor when Milly's phone was allegedly hacked after her abduction in 2002.
Related Internet Links
The BBC is not responsible for the content of external sites.