Visit England pilots QR technology for tourism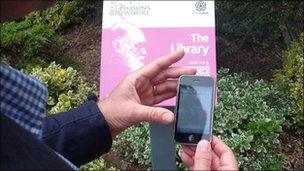 Tourism body Visit England is piloting new technology to encourage visitors to spend more time at their destinations.
Similar to barcodes, Quick Recognition (QR) codes can be scanned by almost any smart phone, allowing tourists to find out more information about locations.
Five places are involved in the six-month scheme, including Leicester, Shrewsbury, Chester, Rochester and Rutland.
The QR codes link to online text, audio and video about specific locations.
Chief executive of Visit England James Berresford said the scheme's success would be measured by the number of downloads.
"To remain competitive on the world stage we must ensure the quality of our visitor information online, via mobile technology and in-destination is the best it can be," he said.
QR Codes are a form of Augmented Reality (AR), already popular in Japan and other areas of Asia.
The idea behind AR is to connect the physical landscape, in which someone is standing, with an online equivalent.
In Leicester QR codes are being used to promote the cultural quarter and National Space Centre.
In Chester the technology offers an insight into the city's Roman past, as well as nearby shopping opportunities.
Shropshire Council's business development manager Dominic Wallis said the QR codes could be changed far more easily than traditional plaques and offer much richer content.
"Shrewsbury is an old town. You can't really go around putting stainless steel plaques around the town because they date very quickly.
"It's about a light touch and giving a deeper understanding of what's behind the facade and what the town's all about," Mr Wallis said.
In Shrewsbury the technology is being used to reveal more about one of the town's most famous residents, Charles Darwin.
People visiting the library and other key locations around the town can find out more about each building's link with Darwin, by scanning codes printed on small, plastic signs.
"It's a slow burn. Smart phones are relatively new, but this technology will become standard in all mobile phones.
"People will get used to seeing QR codes in newspapers, even in bills sent through the post, so it's only a matter of time," Mr Wallis said.
By offering visitors a richer experience, it is hoped they will spend longer in Shrewsbury and ultimately spend more money.
Regardless of the success of Visit England's pilot, Shropshire Council said it was planning to use QR codes along the loop of the River Severn in Shrewsbury, to better promote the town.
Related Internet Links
The BBC is not responsible for the content of external sites.