Cornwall Police make 'significant' find in double murder case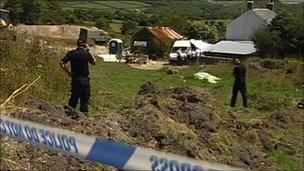 Police investigating a double murder in Cornwall say they have made a "significant" discovery on farmland.
Officers have been looking into the disappearance of Brett Flournoy and David Griffiths who went missing in June.
Police said they were excavating farmland and using cadaver search dogs at a site in Trenance Downs, near St Austell.
A 28-year-old man from St Austell was arrested on Wednesday.
Police have not confirmed what they had found but said a link to drugs was one of several lines of inquiry.
Det Supt Steve Carey said: "This is a fast-moving investigation.
"Officers are excavating an area of farmland where a significant find has been made.
"Officers will be searching there for the rest of the evening and into the weekend."
David Griffiths, from Plymouth, who was living in Berkshire, and Brett Flournoy, from Merseyside, were last seen on 16 June arriving in Cornwall.
It is believed Mr Griffiths and Mr Flournoy were heading to Newquay but police said it was not clear if they had arrived there.
Both men have not been in touch with their families, which police said was completely out of character.
Supt Julie Whitmarsh, of the force, said it was a "very unusual inquiry".
"It's something that started as a missing person inquiry and has developed into a double murder inquiry.
"We're obviously working very closely with the families of the two men to keep them fully updated of what's happening."
Police have appealed for anyone who saw the white Citroen Berlingo van they were believed to have been travelling in to get in touch.
Related Internet Links
The BBC is not responsible for the content of external sites.