'Growing problem' of illegally distilled alcohol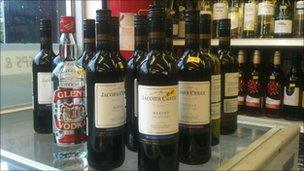 Police are investigating whether an industrial unit where five men were killed in an explosion was being used to distil alcohol illegally.
Lincolnshire Police said chemicals found inside the "smoke-logged" unit at Broadfield Lane Industrial Estate in Boston indicated alcohol was being produced illegally.
But Supt Keith Owen, who said it was probably some sort of spirit, stressed investigations were continuing.
A sixth man is being treated in hospital for severe burns after the blaze on Wednesday evening.
Residents reported seeing thick, black smoke coming from the estate and the injured man running out of the building.
Ian Nuttall, 42, who lives about 200m from the site, said he had seen commotion and smoke coming from the unit.
Mr Nuttall, who did not know what the units were used for, said there had been rumours of people distilling their own vodka in the area.
In March, Trading Standards, HM Revenue and Customs (HMRC) and police seized cigarettes and drink, including counterfeit vodka, from six shops in Boston.
The county council said last month that tests on the fake vodka showed it contained cleaning fluid and was unfit for human consumption. One shop had its alcohol premises licence revoked and another had its suspended.
Gary Seymour, assistant head of Lincolnshire Trading Standards, said after the raids that it was a "growing industry" which it was getting more and more intelligence about.
He said: "The real problem is you don't know what's in it.
"Some of the illegally-made vodka has been found to contain high levels of methanol, which is used to make anti-freeze and some fuels.
"Drinking it can be incredibly dangerous and could cause dizziness, breathing difficulties and even blindness.
"Production often takes place in unhygienic conditions and there is evidence that the counterfeiting of alcohol in the UK is being taken over by organised gangs, setting up factories and making alcohol on an industrial scale, which then gets shipped out to off-licences, pubs and clubs."
A police spokesman said that the problem of distilling illegal alcohol was a national one.
"It's not uncommon to have reports about this in towns across the country. It's not a Boston problem - it's countrywide."
David Bolt, head of the International Federation of Spirits Producers, said spirits were being made illegally across Britain but he did not know whether the problem was growing.
"The vast majority of spirits sold are genuine and if it is a growing problem it only represents a small percentage," he said.
"But even one incident is concerning because of the potential dangers as well as risks to consumers."
Mr Bolt said distilling spirits was "inherently risky" for producers as well as consumers, as it involved potentially "volatile" substances which was why the industry had tight procedures and regulations.
Trading Standards officials, who carry out spot checks around the country, said in February that up to a quarter of licensed premises in parts of the UK had been found to have counterfeit alcohol for sale.
The officers said it was a growing problem nationally. Alcohol fraud costs the UK about £1bn a year in lost revenue, including £300m from illegal spirit sales, according to government estimates.
In October 2010, HMRC officers seized 25,000 litres of counterfeit vodka, along with bottling and labelling equipment at Cheetham Hill, Manchester.
And in March, more than 11,400 litres of counterfeit alcohol were seized at an industrial unit in Worcestershire, according to HMRC.
Last year HMRC and the UK Border Agency renewed their strategy for tackling alcohol fraud, a crime they said was "growing and changing".
The new approach includes a co-ordinated effort to detect, disrupt and dismantle illicit alcohol supply chains and penalise those who profit.
An HMRC spokesman said: "Yesterday's tragic events in Boston have underlined the risks that go with the illegal distillation of alcohol.
"In just over the last 12 months HMRC, working with other law enforcement agencies, has closed down three illegal stills and six men have been prosecuted for producing counterfeit vodka, resulting in prison sentences totalling over 56 years.
"Illegal alcohol undermines all honest alcohol traders whilst putting at risk the lives of those who consume and produce it."
Meanwhile, police and fire investigators in Boston continue to investigate the cause of the blaze, which caused the greatest single loss of life seen by many in the county's fire service.
Related Internet Links
The BBC is not responsible for the content of external sites.