Air Southwest to cease Plymouth and Newquay flights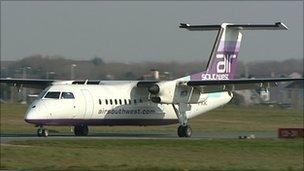 Plymouth-based airline Air Southwest is to stop all of its flights and close by the end of September.
The airline said all Plymouth services would end on 14 September, with Newquay routes to Glasgow, Guernsey, Jersey and Manchester stopping on the same date.
Newquay services to Aberdeen, Bristol, Cork, Dublin and Leeds Bradford would end on September 30, it added.
The airline said that low demand levels meant that the routes were not financially viable.
Air Southwest - Plymouth Airport's sole flight operator - was planning to operate while Plymouth Airport remained open.
The airport, owned by the Sutton Harbour Group, is to close in December.
But it added: "However, despite our original hopes, Air Southwest forward bookings are significantly lower than required and the level of demand is not financially viable."
All passengers booked to fly after September would be fully refunded, it said.
Plymouth's Chamber of Commerce described the news as "extremely disappointing".
The Sutton Harbour Group, which took over operation of the airport in 2000, launched Air Southwest in 2003.
The airline was sold to Humberside-based Eastern International Airways in November 2010.
Related Internet Links
The BBC is not responsible for the content of external sites.