Murder accused's partner Paul Donnison denies affair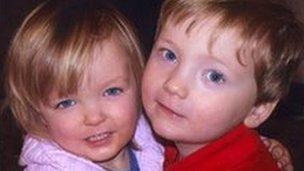 The father of two children who were allegedly suffocated by their mother after their relationship ended has told jurors he was not having an affair.
Paul Donnison, 48, was giving evidence at Lewes Crown Court in the trial of his former partner, Fiona Donnison, who denies murdering their young children.
The court has heard claims Ms Donnison, formerly of Lightwater, Surrey, killed the children after the couple split up.
Jurors heard that the couple, who were not married, had tried to reconcile.
Mr Donnison said his relationship with old school friend Alison Shimmens remained platonic until he and Ms Donnison decided to end their relationship on 15 January 2010.
Twelve days after the Donnisons split up, the bodies of Harry, three, and Elise, two, were found zipped up in holdalls in the boot of Ms Donnison's car near the former family home in Heathfield, East Sussex.
It had been claimed he was having an affair with Ms Shimmens at the same time as apparently trying to patch things up with Ms Donnison, a former City worker, 45, formerly of Marshwood Road.
The court heard that Ms Donnison moved out of the family home in September 2009 without warning, taking the children with her.
Between that September and the following January, Mr Donnison exchanged text messages with Ms Shimmens and also met her, but denied the relationship was physical, jurors heard.
Cross-examining, defence counsel Simon Russell Flint QC referred to entries in Mr Donnison's diary which he was advised to keep by his solicitor.
Jurors heard a diary entry said Mr and Ms Donnison spent the weekend of 26 September 2009 at a hotel where they discussed getting back together.
Mr Russell Flint asked Mr Donnison if the text messages he had that weekend from Ms Shimmens were "flirty".
Mr Donnison replied: "You could interpret them that way."
He also said he was aware that Ms Donnison saw the messages on his phone, but he felt his contact with Ms Shimmens was none of her business.
When asked why he went along with Ms Donnison's attempts to get back together while still apparently seeing Ms Shimmens, Mr Donnison said: "That's what I wanted but I never believed it was Fiona's intent."
Mr Russell Flint said: "So you had a little banker on the side just in case it didn't work out? Is that it?"
Mr Donnison said: "Absolutely not."
Jurors heard an hour-long recording of a telephone conversation the couple had on 3 September, two days after Ms Donnison left her partner.
The court heard that Ms Donnison recorded the conversation. During the conversation, jurors heard Ms Donnison speaking in a cool, calm voice, as Mr Donnison desperately asked why she had gone and whether they could get back together.
Mr Donnison told the court Ms Donnison never explained why she left him, following what he thought was a successful family holiday to Ireland.
The court heard she left a note which said: "For the sake of the children I feel I have no choice but to move out."
He denied claims by Ms Donnison that he had ever grabbed her or lost his temper to the extent that he smashed a bottle and punched a wall.
Mr Donnison said he would never have threatened to hurt one of her two teenage sons from her first marriage, who lived with them in Heathfield.
And he also denied that he once "grabbed" Harry after he refused to eat his dinner, and "held his face by his chin in order to make him say the word sorry" before banishing him to his room for the evening.
The court heard the presence of the Ms Donnison's teenage sons in their home put "a strain" on their relationship.
Mr Donnison said he did not have much to do with them but it was because he had not wanted to usurp their own father's position.
During the recorded conversation, jurors heard Ms Donnison refuse to tell her former partner that she had moved with all four children to a rented house in Lightwater, despite him continually asking where they were.
At one point in the conversation, jurors heard her say she had moved to Scotland and then laugh as he panics before saying she was closer than that.
Near the end of the conversation, Mr Donnison told him he loved her and begged her to say it back to him, but she refused, feeling it would be "two-faced", the court heard.
It is claimed by the prosecution that Ms Donnison used Harry and Elise as the "ultimate pawns" by killing them to hurt Mr Donnison in the most extreme way possible.
The trial was adjourned until Friday.
Related Internet Links
The BBC is not responsible for the content of external sites.