Pink Floyd star's son Charlie Gilmour 'drunk at fees demo'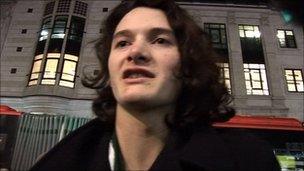 Charlie Gilmour, the son of Pink Floyd guitarist David, drunkenly shouted about breaking "all the laws" during a student fees demo, a court heard.
Gilmour, 21, of West Sussex, has admitted violent disorder during the protest in central London.
He was accused of throwing a bin at a convoy of cars containing Prince Charles, sitting on a protection officer's car and smashing a window.
Sentencing at Kingston Crown Court was adjourned until Friday.
The Cambridge University student was among thousands of people who protested in central London on 9 December 2010.
Gilmour was "thoroughly intoxicated" on the day of the protest, his barrister David Spens QC said.
The student, who was accompanied to court by his rock star father and his mother, covered his face with his hands as the court was shown footage of his behaviour.
He was first filmed in Parliament Square at 1340 GMT, and heard to shout: "'Let them eat cake.
"We won't eat cake, we'll eat fire and ice and destruction because we're angry."
In a second clip he said: "They broke the moral law, we're going to break all the laws."
Later that evening, he lept on to the bonnet of a Jaguar car driving up Regent Street in a royal convoy containing the Prince of Wales and Duchess of Cornwall.
The car carried royal protection officers accompanying the couple as they were chauffeured to a Royal Variety Performance.
Gilmour was accused of throwing a rubbish bin that appeared to hit the Jaguar, but his defence disputed the allegation.
The student said he had no recollection of throwing the bin and there was no evidence he had done so, Mr Spens said.
The images of the incident were shot in poor lighting and were blurry and the student had no motive for the violent act, he added.
The court was told a photograph was also taken of Gilmour holding on to a Union Jack which was hanging from the Cenotaph, an incident for which he later apologised.
He was also accused of smashing the front window of Topshop's flagship store in Oxford Street and making off with the leg of a mannequin.
Mr Duncan Penny QC, prosecutor, said: "Some of the younger members of staff at Topshop were crying.
"Some were offered counselling subsequently because they were so affected by the incident."
Related Internet Links
The BBC is not responsible for the content of external sites.