Cornwall Police find van and body in double murder case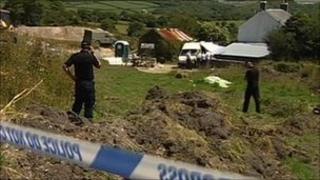 Police investigating a double murder in Cornwall say they have found the remains of a body and a fire damaged vehicle on farmland.
Land on the farm near Trenance Downs, St Austell has been excavated and dogs have been used in an extensive search
Officers have been looking into the disappearance of Brett Flournoy and David Griffiths who went missing in June.
A 28 year old man from St Austell has been arrested and remains in custody.
During inquiries police appealed to anyone who had seen a white Citroen Berlingo van.
Speaking about the vehicle found at the farm, Det Insp Costa Nassaris said: "We believe this is the Citroen Berlingo van we've been looking for, although we haven't been able to positively identify the vehicle at this time as it has extensive fire damage and it's currently full of soil.
"We also believe we've uncovered the remains of at least one individual. A full forensic examination is now taking place."
Police said experts in ground radar and excavation had helped identify the site and the buried vehicle.
David Griffiths, from Plymouth, who was living in Berkshire, and Brett Flournoy, from Merseyside, were last seen on 16 June arriving in Cornwall.
It is believed Mr Griffiths and Mr Flournoy were heading to Newquay but police said it was not clear if they had ever arrived there.
Both men have not been in touch with their families, which police said was completely out of character.
Supt Julie Whitmarsh, of the force, said it was a "very unusual inquiry".
"It's something that started as a missing person inquiry and has developed into a double murder inquiry."
The families of both men have been informed of the latest developments.