Segway boss died in 'act of courtesy'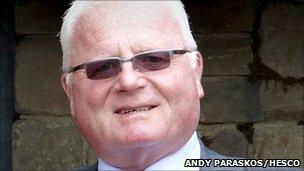 A millionaire businessman who fell from a cliff while riding his Segway scooter probably died after trying to make way for a dog walker, an inquest has heard.
Jimi Heselden, 62, reversed the machine to make way for another dog walker.
Coroner David Hinchcliff said the boss of the Segway company apparently died due to this "act of courtesy".
Mr Heselden fell more than 42ft from a footpath above the river Wharfe near Boston Spa in West Yorkshire, close to his home.
The businessman had led a British takeover of the US-based Segway company, which makes and distributes the distinctive two-wheeled, self-balancing scooters, last year.
Dog walker Sean Christie told the Leeds inquest he was walking his dog on September 26 last year and spotted Mr Heselden at the top of a steep incline.
Mr Christie said that he saw the businessman move a short distance backwards in a reversing move he assumed was to make room for him to pass.
He said Mr Heselden appeared to wobble and then went out of view. He found him lying face down and lifeless in the river below. Mr Heselden was pronounced dead at the scene.
Coroner David Hinchliff said: "I think it's probable, I think typical of Jimi and the type of man he was, he held back and waited as an act of courtesy to allow Mr Christie more room. In so doing he's attempted to reverse the Segway back. As a result of that he's got into difficulty."
The coroner recorded a verdict of accidental death.
Mr Heselden made his fortune when his Leeds-based firm, Hesco Bastion, developed the "blast wall" basket, which protects soldiers in Afghanistan and Iraq, as a replacement for traditional sandbags.
A former miner, Mr Heselden left school when he was 15 and was reported to have been worth £166m.
He gave millions of pounds away to charities associated with Leeds and the armed forces. The Leeds Community Foundation said he had donated £23m to causes in Leeds since 2008.
Mr Heselden was also closely linked to the Help For Heroes charity, which helps injured military personnel.
The inquest heard that Mr Heselden's wife Julie last saw her husband earlier that morning when he said he was going out to feed his fish.
The coroner said the businessman was probably out walking his dog when the accident happened. Mr Heselden is thought to have fallen on to the bank of the river before ending up in the water where he was found dead by Mr Christie.
A post-mortem examination found Mr Heselden died from "multiple blunt force injuries to the chest and spine consistent with a fall while riding a gyrobike".
Experts found no fault with Mr Heselden's X2 off-road Segway model and detectives found no evidence of any third party involvement or foul play.
Mr Hinchliff told the hearing: "It's such a shame and tragedy that such a great man should have died in this way."
The family's solicitor Rob Rode said in a statement: "The inquest today has confirmed what Jimi's family have understood for some time, namely that his untimely death was the result of a tragic accident. Today's proceedings bring some closure for Jimi's family on their tragic loss."