Downview jail sex case prison governor convicted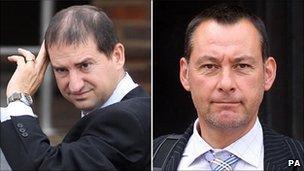 An acting prison governor has been convicted of misconduct in a public office after having a sexual relationship with an inmate.
Russell Thorne, 41, of Sutton, London, had the relationship at Downview women's prison, from 2006 to 2010.
He was cleared of another misconduct charge at Guildford Crown Court.
Co-defendant Simon Dykes, 45, of Dorking, Surrey, was cleared of three out of six misconduct charges he faced. Verdicts are awaited on three counts.
During the trial, jurors heard Thorne, of Sinclair Drive, demanded the frightened inmate perform a sex act on him, telling her "it's an order".
The court heard the woman fell in love with the prison officer but felt she had to comply with his demands for fear of losing perks that came out of their relationship.
She told the court contraception was not used but she was paranoid she might end up pregnant, and Thorne provided her with laxatives in an attempt to prevent this.
Charges denied by Dykes, of The Paddock, Westcott, related to allegations of sex acts with six women at the jail.
Four accused him of sleeping with them and two others claimed he touched one of them and masturbated outside the other's cell.
The defendant, who was previously in the Army and had also been a fireman, said such behaviour would have been "professional suicide".
Thorne is due to be sentenced at a later date.
After Thorne was convicted, a Prison Service spokesman said: "We take the issue of staff corruption and inappropriate behaviour extremely seriously."
Det Insp Jo Sidaway, from Surrey Police, said: "I hope that this result brings confidence that those entrusted with the care of vulnerable women will be brought to justice if they abuse their position.
And Mark Leech, editor of Converse, the national newspaper for prisoners, said: "Russell Thorne is the worst kind of prison governor.
"He used his position of power to obtain sexual favours from a vulnerable young woman who clearly felt they had no choice."
The case was adjourned until Monday when jurors will continue to consider the outstanding charges against Dykes, who was granted bail.
Related Internet Links
The BBC is not responsible for the content of external sites.