'Fantastic results' at Roman dig in Maryport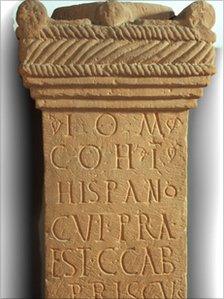 The excavation of a Roman site at Maryport, in Cumbria, has produced "fascinating results", experts say.
The project at the remains of a Roman fort at Camp Farm, which started last year, is due to be completed on 22 July.
The team said it had found many features not recorded by a previous excavation in 1870.
Among them are fragments of altars, traces of timber buildings, pottery and coins.
A team of 28 volunteers has worked alongside the archaeologists on the project, which was commissioned by the Senhouse Museum Trust.
It was led by Professor Ian Haynes, from Newcastle University, and field archaeologist Tony Wilmott.
Maryport was part of the Roman frontier coastal defences extending from Hadrian's Wall.
Hadrian Wall Heritage has submitted plans for a £10.7m Roman Maryport visitor attraction.
Its access director Nigel Mills said the excavation had yielded "fantastic results" and showed the potential of the site.
Related Internet Links
The BBC is not responsible for the content of external sites.