Final push over HS2 London-Birmingham high speed rail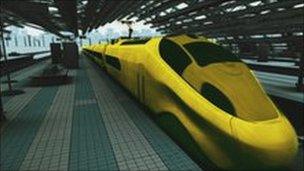 Supporters and opponents of a proposed high speed rail route between London and Birmingham are gearing up for the final fortnight of consultation.
The public consultation over the HS2 route is due to end on 29 July.
Alison Munro, chief executive of HS2 Ltd, said it was important to get as many responses as possible.
Opponent Stop HS2 has opened a new headquarters in Warwickshire, saying the work will become more specialised when the consultation ends.
Co-ordinator Joe Ruskin said the next two weeks would be spent chasing responses, even if it was just getting people to write the word no several times.
The new HQ in Kenilworth was opened by the town's mayor Dave Shilton, who said HS2 would not only devastate Kenilworth but also Coventry and Leamington Spa and all the places it would pass through without stopping.
Supporters of the scheme, which aims to cut the London to Birmingham journey time to 49 minutes, have said it would benefit business.
Solihull Lib Dem MP Lorely Burt said HS2's economic case for the whole region was overwhelming.
"If you look at other countries, they have raced ahead of us, literally, in the provision of high speed rail," she said.
"We really do need this."
Last week, Solihull Council re-iterated its support in principle saying there was a need for an HS2 station to serve Birmingham Airport and the National Exhibition Centre.
The route would cut through Warwickshire, going into Birmingham and into parts of Staffordshire.
A further route has also been proposed extending HS2 into Manchester and Leeds.
Related Internet Links
The BBC is not responsible for the content of external sites.