Murder accused Fiona Donnison 'seemed nervous'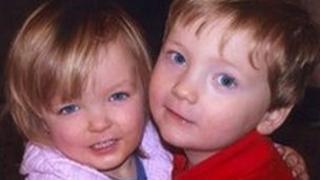 A friend of a woman accused of murdering her two children has told a court she seemed "nervous" two days before their bodies were found.
Lyn Taylor-Rodda, 52, was giving evidence at the trial of Fiona Donnison, who denies killing three-year-old Harry and two-year-old Elise.
Their bodies were found zipped up in two holdalls in the boot of a car in East Sussex on 27 January 2010.
Ms Donnison denies two counts of murder, at Lewes Crown Court.
Former City worker Ms Donnison had been renting a house in Lightwater, Surrey, since leaving the children's father, Paul Donnison, 48, in September 2009.
Mrs Taylor-Rodda said Ms Donnison asked to come and stay with her on 25 January 2010.
Asked by prosecutor Christine Laing QC how Ms Donnison seemed that evening, Mrs Taylor-Rodda said: "She was a little bit, I don't know... I can't really describe it... nervous.
"But she was herself and we were chatting. She was... Fiona."
Mrs Taylor-Rodda said she noticed Ms Donnison seemed very tired and had lost up to two stone in weight.
Questioned about how she seemed with the children, she said: "Absolutely fine. Just like a mother should be."
Asked if she had any concerns for their welfare, she added: "None at all."
She said the next morning, 26 January, they continued to chat, with Ms Donnison talking about her future plans "positively".
Mrs Taylor-Rodda's son, Sam, was the last person apart from Ms Donnison to see Harry and Elise alive.
The 22-year-old, who lived at home with his parents at the time, told jurors he played with the children that afternoon after they had come back from nursery school.
The prosecution argues that Ms Donnison suffocated Harry and Elise at her house in Lightwater later that evening.
The following morning, on 27 January, Ms Donnison went to a police station and told police she had killed the children, the court has heard.
The trial has been adjourned until Tuesday.