Downview sex case prison governor jailed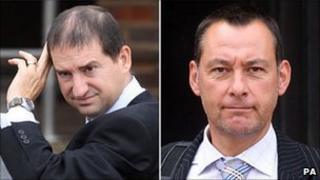 An acting prison governor who had a sexual relationship with a woman inmate has been jailed for five years.
Russell Thorne, 41, of Sinclair Drive, Sutton, London, had the relationship at Downview women's jail for three years.
He was convicted, at Guildford Crown Court, of misconduct in a public office between 2006 and 2010.
The jury failed to reach a verdict on three similar charges against co-defendant Simon Dykes, 45, of Woking, Surrey, who is to face a retrial.
Mr Dykes, of The Paddock, Westcott, was cleared on Friday of three misconduct charges.
Jurors heard Thorne conducted a three-year affair with the woman at the Sutton jail, who at one point feared she was pregnant.
Thorne demanded the frightened inmate perform a sex act on him, saying: "It's an order," the court was told during the month-long trial.
Jurors heard the woman fell in love with the officer but felt she had to comply with his wishes for fear of losing perks that came with their relationship.
The inmate said she made Thorne "pay" for his infidelities in cash or with gifts selected from an Argos catalogue.
Surrey Police said he was suspended from his job when an allegation of inappropriate behaviour towards a prisoner was made.
The investigation followed a report from the Prison Service to police of suspected misbehaviour by male prison officers abusing vulnerable female prisoners.
Thorne was cleared on Friday of a second charge of misconduct in a public office.
'Absolutely astonished'
Mark Leech, editor of Converse, the national prisoners' newspaper, said: "Russell Thorne is a disgrace to the Prison Service.
"Thorne's job was to ensure vulnerable female inmates were protected from harm, not exploited for his own perverse sexual gratification.
"What absolutely astonishes me is how he managed to get away with it for so long.
"This wasn't a weekend fling in a holiday camp, this went on for over three years inside a high security prison where staff are trained to spot and report suspicious behaviour.
"How did they all miss it, and for so long?"