New helicopter for air ambulance service in East Anglia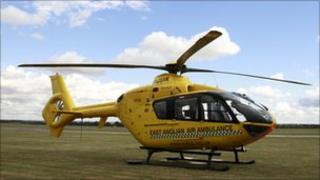 The East Anglian Air Ambulance (EAAA) which operates in Bedfordshire, Norfolk, Cambridgeshire and Suffolk, has taken delivery of a new helicopter.
The larger Eurocopter EC135 will replace one of the charity's two red Bolkow 105 helicopters.
Between them, the craft and crew provide emergency medical assistance across a 5,000-sq-mile (13,000-sq-km) area.
The new helicopter will use both of the EAAA's bases in Norwich and Cambridge.
'Accompany them'
Tim Page, chief executive of the EAAA, said: "The EC135 is larger and more capable than the aircraft which it will replace, and will enable us to carry more people and equipment, increasing our ability to save the lives of those who suffer accidents or medical emergencies.
"We will also be able to train more doctors to work on our air ambulances and, in the event that we have to transport a child to hospital, enable a parent to accompany them."
The yellow livery of the new helicopter marks a return to the colours used by the charity when it began operating in 2000.
In the future, the EAAA hopes to replace the remaining red Bolkow with a second EC135.