MPs voice anger over East Midlands riots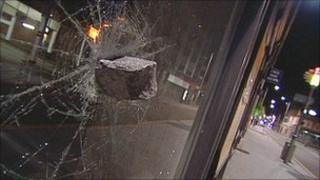 Just 11! That was the incredulous reaction of an East Midlands MP to the age of one of those arrested after the looting in Nottingham.
The 11-year-old girl appeared before magistrates in Nottingham charged with criminal damage and attempted criminal damage. She's been remanded in custody.
Our politicians - like so much of the population - are still numbed by the events of the last few days.
The emergency parliamentary debate offers them time to reflect and to voice the raw anger at the violence and damage unleashed on our English cities.
Tackling the troubles
One of Nottingham's MPs Chris Leslie has already called for stronger penalties as the offenders start to make their way through the court system.
He wants the Crown Prosecution Service to draw up charges that reflect "the added recklessness and heightened community tensions".
In Nottingham's case, the 11-year-old girl arrested was one of 24 people to appear in court. Most have been charged with violent disorder.
Chris Leslie's Nottingham East constituency took the brunt of the disturbances.
Five police stations were fire bombed and parked cars were wrecked and set on fire.
He was out last night with Nottinghamshire Police to see at first-hand how they are tackling the troubles.
Tougher penalties
"These individuals need to realise the seriousness of the fear and destruction they have caused," he told me.
The Labour MP has already spoken to the Deputy Prime Minister Nick Clegg to press for tougher penalties.
He also wants an inquiry into the use of social media and some mobile phone systems that have been used by gangs to organise the disturbances.
That's already got the backing of one of Nottinghamshire's senior Tories, Newark's Patrick Mercer.
He had earlier called for water cannon to be used.
That message was soon picked up by Downing Street
Police numbers
But a tension in the cross party consensus is likely to be over future police funding.
Labour MPs want the government to reconsider big cuts to police budgets.
Leicester South's Jon Ashworth was particularly outraged at the torching of an Age Concern bus in his city.
"It is essential we now have leadership and order," he said.
"I will be pressing the Prime Minister that we have all the resources needed to support the police," he added.
The Prime Minister says the fightback is now under way. That may well involve rethinking the cuts to police funding.