Segway boss leaves £340m to his wife and family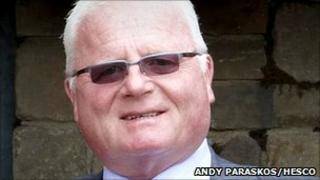 The millionaire owner of the Segway company who fell from cliffs while riding one of the scooters, has left an estate of more than £340m.
Jimi Heselden, 62, died last year after crashing into the River Wharfe while riding the vehicle round his estate in Boston Spa, West Yorkshire.
The money was left to his wife Julie, and other family members.
Mr Heselden, who founded Leeds-based company Hesco Bastion, acquired the Segway operation in December 2009.
On 26 September last year, he fell more than 30ft (9m) from a footpath above the River Wharfe near Boston Spa in West Yorkshire, close to his home.
He was pronounced dead at the scene and the scooter was found in the water.
An inquest last month heard he probably died after trying to make way for a dog walker.
'Legacy lives on'
Mr Heselden was one of the 400 richest people in the UK.
A statement released on behalf of the trustees of Mr Heselden's estate said: "It can be confirmed that Jimi left an estate of £343,172,206 which he has bequeathed to his widow Julie and other family members.
"The estate consists substantially of Jimi's controlling interest in Hesco Bastion Ltd.
"The family wishes that Jimi's legacy will live on in the many charities and good causes he supported during his lifetime."
Mr Heselden made his fortune when his Leeds-based firm, Hesco Bastion, developed the "blast wall" basket, which protects soldiers in Afghanistan and Iraq, as a replacement for traditional sandbags.
A former miner, Mr Heselden left school when he was 15.
He gave millions of pounds away to charities associated with Leeds and the armed forces. The Leeds Community Foundation said he had donated £23m to causes in Leeds since 2008.
Mr Heselden was also closely linked to the Help For Heroes charity, which helps injured military personnel.