Red Arrows crash: Jon Egging death probe to take weeks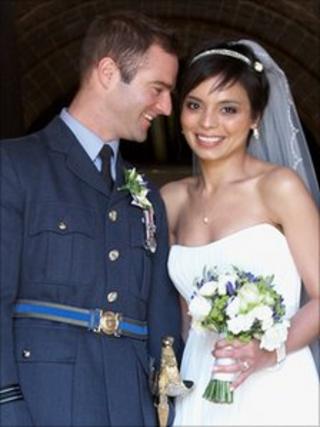 An investigation into a crash which killed a member of the Red Arrows display team could take weeks, officials have indicated.
All Hawk T1 aircraft were grounded after Flt Lt Jon Egging died when his plane came down after a display near Bournemouth airport on Saturday.
The incident is now the subject of a Military Aviation Authority investigation, which has no time limit.
An inquest in Bournemouth was opened and adjourned earlier.
The inquest heard 33-year-old Flt Lt Egging's body was found close to the crash site near the River Stour.
A post-mortem examination showed the cause of death was multiple injuries.
The inquest was adjourned while investigations are carried out.
Coroner Sheriff Payne said it was unlikely a full inquest would be held for up to 12 months.
A spokesman for the Ministry of Defence said the Military Aviation Authority investigation could take weeks but an interim report was expected within days.
While this is under way all flights by the Hawk T1 - a fleet of about 170 aircraft including trainers - have been suspended.
'Exemplary pilot'
Dr Emma Egging, Flt Lt Egging's widow, said: "Jon was everything to those that knew him, and he was the best friend and husband I could ever have wished for.
"I know that he would have wanted me to say something from the heart at this time.
"There was nothing bad about Jon. He loved his job and was an exemplary pilot. Watching him today, I was the proudest I've ever been. I loved everything about him, and he will be missed."
At the Red Arrows' base at RAF Scampton, in Lincolnshire, an unofficial memorial has been growing as well-wishers leave tributes.
A book of condolence has also been opened.
Enthusiast John Robinson said: "It has been has been very sad, there is normally quite a buzz about the place but it is very low level now.
"Obviously the main topic of conversation has been this sad loss and a lot of people are very upset."
All nine Red Arrows display pilots are from front-line RAF squadrons.
Flt Lt Egging joined the RAF in 2000 and served with IV (AC) Squadron, based at RAF Cottesmore, flying the Harrier GR9 in support of coalition forces in Afghanistan.
The Red Arrows have used the dual control BAE Systems Hawk T1 aircraft since 1979.