Norfolk man named as Battle of Bosworth Yorkist fighter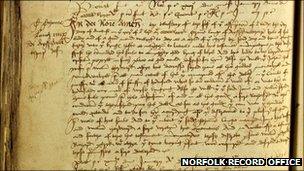 The will of a 15th Century Norfolk man has revealed him to be the first named common soldier who fought for the House of York during the Battle of Bosworth.
Thomas Longe was "willing to die" shortly before the battle began in 1485, the document shows.
The find at Norfolk Record Office sheds new light on how ordinary people played a part in England's Wars of the Roses.
Historians say the discovery of Mr Longe's will is important because names of ordinary men were often left off historic war documents, with only notable figures recorded.
In the spoken will, Mr Longe left his £5 wealth to his wife Joan and a friend.
The Battle of Bosworth, in Leicestershire, was the penultimate stand-off in the Wars of the Roses between the Houses of York and Lancaster.
It is believed Mr Longe headed to Nottingham to join King Richard III's troops on the Yorkist side, along with Thomas Howard, Lord of Ashwellthorpe, and John Howard, Duke of Norfolk.
Historians believe he died during or soon after the battle as his will was proven the following January.
On 22 August 1485, Richard III and his men were defeated by Henry Tudor in the decisive Lancastrian victory.
"He [Longe] was part of the Earl of Norfolk's army which was right at the front of the 'Yorkist' four, so he was one of the first people in the battle," said John Simpson-Wedge, historian at Norwich Castle.
"Which also probably meant he was one of the first people killed, because Norfolk's army was one that struggled and suffered most during the battle."
Names are already known for a number of common soldiers on the Lancastrian side of the battle, as after he had won Henry VII made some Yeomen of the Guard.
"Thomas Longe was not a trained fighter. So the first thing to bear in mind is just how scared he would have been," said Mr Simpson-Wedge.
"This is a man who spent most of his life working in a field in a village, and then he's on the front line of one of the biggest battles in the 1480s.
"Because he wasn't a professional he probably didn't own any armour. The thing he most likely relied on was his own weapon and his wits."
The document will soon be made available to read on the Norfolk Record Office website.
Related Internet Links
The BBC is not responsible for the content of external sites.