Row over Southport cockle permits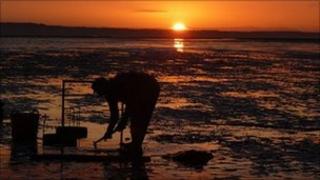 A local fisherman has complained about the way cockling permits have been issued in the Ribble Estuary.
Christian Peet, owner of Southport Seafoods, said some local people were left out while cocklers from outside the area had been given permits.
Cocklers travel from eastern Europe and other parts of the UK to fish in the Merseyside area.
The North Western Inshore Fisheries and Conservation Authority (NWIFCA) said it only had 400 permits to issue.
The reduced number came about after the Morecambe Bay cockling tragedy in 2004.
Safety course
Mr Peet usually catches shrimp but was one of those who had failed to secure a licence to harvest cockles.
He said the authority should have ensured that local businesses had priority.
"I was told that there would be no favouritism to local fishermen," Mr Peet said.
"The local economy is not going to benefit, the cockles will go onto wagons and be sold to France and Spain."
He also suggested that for proper sustainability harvesters should be able to go out every day to the cockle beds but only collect a limited amount, to make the supply last longer.
The beds at Southport opened on 1 September and he feared that within a week nearly all of the cockles would have been picked.
Steve Atkins, from NWIFCA, said most local businesses had got permits but Mr Peet had not submitted his paperwork in time.
The authority regulates cockle fishing throughout the north-west of England under a permit scheme and holders have to complete a safety course in intertidal fishing.
Those who had one last year can automatically renew, otherwise new applicants go on a waiting list.
Morecambe Bay tragedy
The number of permits has been reduced from 2,000 in the 2006-8 season.
"We have a lot of permit holders from Poland and eastern Europe, they can get them because of the migration of labour regulations," Mr Atkins said.
He added that he understood Mr Peet's request and said the authority could make 40 new permits each year and if he applied for one of those it could be issued for next year.
Twenty-three Chinese cockle pickers died in Morecambe Bay when they were caught out by the tide in February 2004.
The tragedy led to a huge investigation, court cases and changes to the law covering the sort of work they were doing.
The beds in the Morecambe bay area near the Lytham St Anne's side in Lancashire contain undersize and low numbers of cockles and until they have matured the area will remain closed.