MP Matthew Hancock on economics and home economics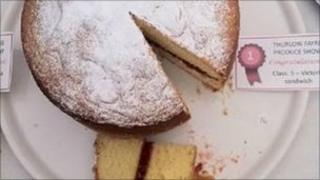 MP Matthew Hancock obviously has hidden talents.
He, at least, is a master of something, having been named as the winner of the men's Victoria sponge contest at the annual Thurlow Fayre in his constituency of West Suffolk.
Quite unlike the Masters of Nothing, the title of his new book.
The book, co-authored with fellow Conservative, Nadhim Zahawi, MP for Stratford, argues for radical city reform and says that the financial crisis was brought on by "greed, recklessness and irrationality".
It tells how the crash will happen again unless we understand human nature.
"We know this from our everyday lives and the people we talk to and our marriages," he said.
Well, at least Mrs Hancock can rely on a nice slice of sponge.
"For this generation of politicians, I think that one of the most important things we can do is prevent it from happening again," he tells me.
"How economics behaves is determined by human nature, but economic policy has removed itself from this."
Home economics
"Homo economics are not valid, they're built on false assumptions.
"The idea that banks will be rational is misplaced and we need to change that culture."
And did he really bake the delicious looking cake?
"Oh yes... I baked two practice ones, gave one away and had no help from anyone except our three year old son."
It looks like home economics is a strength in the Hancock household.
Racing economy
Is there is no end to Mr Hancock's abilities?
Looking all too comfortable, Newmarket's MP has also been demonstrating his credentials, flying down the gallops.
"It was a thrill to ride out on Newmarket's famous Warren Hill.
"The gallops early in the morning are stunning and you can see as far as Ely Cathedral.
"It was an unforgettable experience.
"I am passionate about representing Newmarket and securing a strong future for racing.
"It is easy to forget how much work goes into it behind the scenes. You learn a lot talking to the lads and stable girls riding out.
"They have to work so hard - I think I'll be feeling it in the morning!"