South East marine zones 'to protect sealife'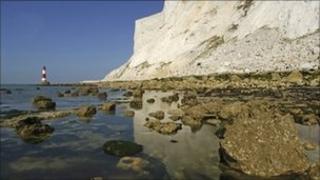 The Goodwin Sands and Beachy Head are among dozens of proposed conservation zones that could be set up to protect coastal wildlife and sea habitats.
Potential Marine Conservation Zones (MCZ) are being proposed around the UK.
In the South East, the MCZ regional group Balanced Seas has come up with a list of 30 sites.
One species that could be protected by the move is the rare tentacled lagoon worm. One of the largest populations of the species is off Greenhithe, Kent.
Recommended zones around the South East include the Thames, Medway and Swale estuaries, the Thanet coast, and a stretch around Dover Folkestone and Deal in Kent.
Seahorse species
Balanced Seas said south east Kent had more than 60% of Britain's chalk coastline and also the Goodwin Sands, a site of several historic wrecks and a habitat for seals and birds.
The water off Seven Sisters, Beachy Head and Sovereign Shoals currently had no protection, Balanced Seas said.
A conservation zone on that stretch of coast would protect chalk and sandstone reefs and two species of seahorse.
Other Sussex areas that could be protected included part of the Brighton coast, Pagham Harbour and Selsey Bill.
Areas of the Suffolk and Essex coast included drowned river valleys and sandbanks shaped by strong tidal currents that were the only regional habitat for the tiny lagoon sea slug.
And what was thought to be the most diverse zone was off the Isle of Wight, which had seagrass beds, rocky ledges and reefs that were home to seahorses, lagoon worms, stalked jellyfish and rare seaweeds.
Project manager Sue Wells said the zone recommendations were the first phase in the process. Next year the government will put forward a shortlist of sites and further consultation will take place.