Devon and Cornwall 'to inevitably share MP'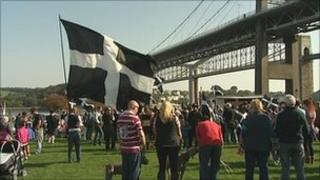 The Boundary Commission has chosen to cross the Cornwall/Devon border in the shallow upper reaches of the Tamar.
It clearly hopes this will be less controversial than doing so in the shadow of Brunel's famous bridge at the iconic mouth of the estuary [near Plymouth].
But is a less impressive boundary necessarily less important to people?
The border will only be breached through a tiny bottleneck in the north.
However, this would still mean a great chunk of Cornwall - including the county's ancient capital with the castle of the Earls of Cornwall, Launceston - being forced into a union with towns deep into Devon.
Under the new law on constituency sizes, though, the Boundary Commission says Cornwall will inevitably have to share an MP with Devon in some way, shape or form.
The merger reflects the government's wish to reduce the overall number of parliamentary seats.
Under the proposed new system, Cornwall's population is too big for five MPs, but not big enough for the present six.
It also brings a challenge for the two MPs who currently have a seat each on either side of the River Tamar.
In the near future, they could be fighting over the same one.