Constituency boundaries in the South of England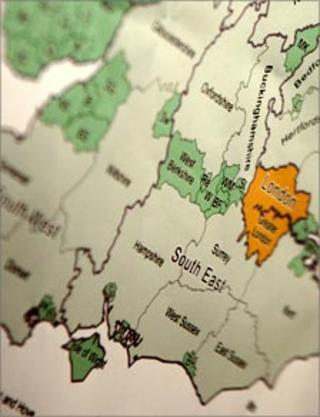 It must be like sudoku on a grand scale. Trying to line up the boundaries of ancient towns and cities with packages of 76,000 voters, whilst not upsetting too many sitting MPs.
In some parts of the South of England it was a breeze. Berkshire recently had a series of boundary changes so Maidenhead, Bracknell, Wokingham, Reading lined up - bang, bang, bang - with their 76,000 electorate.
Surrey, Buckinghamshire and Oxfordshire too got through with a tweak here and there.
But Hampshire, oh dear. And in Sussex, too - rather like the tail end of the crossword - nothing seemed to fit.
So Chris Huhne sees his Eastleigh stronghold carved four ways, though local Lib Dem support could carry him through, all other things being equal.
George Hollingbery's new seat of Meon Valley is gone - on the principle perhaps of last in, first out. There's a new seat of Hedge End and Hamble (where you have to wonder if Hurricanes Hardly ever Happen) and Romsey joins back up with the New Forest waterside, leaving Caroline Nokes high and dry.
East/West split
Add to that splitting Portsmouth East/West rather than North/South and you have to wonder if someone in the Boundary Commission had it in for Hampshire.
Brighton sees Transport Minister Norman Baker bussed in to the east from more comfortable Lewes, whilst on the west Hove is mixed up with the Pavilion constituency that gave the Green Party leader Caroline Lucas her historic first seat.
With the Greens now running the council they may well be extending their influence, but it will take time for people to work out the overall dynamic.
In the South West Robert Walter's North Dorset seat disappears. 43.9% of it is in with the Warminster and Shaftesbury seat, along with 46% of South West Wiltshire and a little bit of Devizes and Salisbury for good measure.
Public consultation
You can look up your own MP on the Boundary Commission website - here for the South East and here for the South West.
Written submissions can be made by following the steps on the website; in writing to 'Consultation feedback', Boundary Commission for England, 35 Great Smith Street, London SW1P 3BQ; or via these email addresses - southeast@bcommengland.x.gsi.gov.uk or southwest@bcommengland.x.gsi.gov.uk.
But I'll leave you with one thought.
All these gyrations have been to get the number of voters within five percent of the target of 76,000 per constituency. But surely there's more variation than that in voter registration?
Can you really say 76,000 registered voters in Brighton and Bournemouth today will translate to the same number of votes per MP at the next election?
What about University towns? Expanding areas?
And how will MPs have to behave as they have to start to nurture new areas, or choose between East or West or North or South for their new seats?
For the rest of us it makes a change to see the MPs squirming as they play what one called "musical chairs with machetes". They're worried about their jobs - ha! Welcome to the real world.
But there must be a simpler way of doing things. Expect some big challenges ahead.