Rebecca Coriam: Shipping Minister Mike Penning takes up case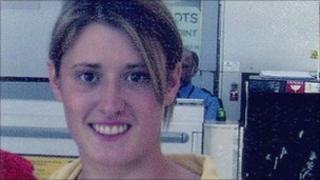 A UK government minister has promised to help a Chester woman's parents in their quest to discover why she went missing from a cruise ship off Mexico.
Rebecca Coriam, 24, from Guilden Sutton, vanished from a Disney cruise in March.
Mike and Ann Coriam said shipping minister Mike Penning was to take the case up with the International Maritime Organisation (IMO).
The couple met the minister at the Department For Transport on Monday.
"The minister is going to talk to the IMO to see what it can do, as well as the Marine Accident Investigations branch," said Mr Coriam.
The couple are campaigning for a change in the law to allow UK authorities to investigate cases of British nationals who go missing on vessels registered abroad.
Ms Coriam was working for an English firm on the Bahamas-registered ship Disney Wonder.
Missing credit card
Mr Penning said he welcomed the chance to learn first hand the circumstances surrounding Ms Coriam's disappearance and promised to do whatever he could to help her family.
He said: "Understandably, they are frustrated that the details of Rebecca's disappearance have yet to be established and I will pass on their concerns to the Bahamian authorities.
"I will also raise the wider issues of crimes at sea with the International Maritime Organization."
The youth worker was last seen on the Disney Wonder on 21 March.
Her credit card, which was not among the personal effects returned to her parents, has been used since her disappearance.
"We don't know what happened to the credit card," said Mr Coriam.
Police in the Bahamas said there was no evidence to suggest foul play.