Football medals sell for £9,400 in Newcastle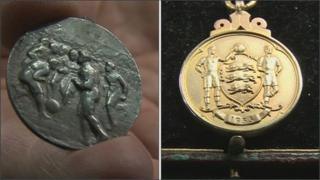 Two rare football medals have fetched a total of £9,400 at a Newcastle auction.
A Sir Thomas Lipton Trophy winner's medal, won by West Auckland Football Club in 1909, was bought by a group of West Auckland businessmen for £5,200.
The medal, which was found at a car boot sale and is one of only four known to exist, will go on show at West Auckland Working Men's Club next month.
Newcastle United player Bobby Cowell's 1955 FA Cup winner's medal was the other medal sold. It fetched £4,200.
'Emotional day'
West Auckland beat the Italian club Juventus 6-1 in Turin to win the Sir Thomas Lipton Trophy. The players had the medals made themselves.
The amateur County Durham side entered after the FA refused to nominate an English club to take part in the competition, which was intended by Sir Thomas to be a contest between the leading football clubs of Europe.
Auctioneer John Anderson said: "We did have telephone bids from all over the country, there was immense interest in this very rare item."
The winning group consisted of Stuart Alderson, general manager of West Auckland Football Club, Rob York, a local councillor and businessman, John Elliot, chairman of a local business, and property developer Rob Hill.
Mr Alderson said of Tuesday's auction: "It was a really emotional day.
"It'll go on show in the working men's club so everybody can see it, it won't be locked away."