Crew members chosen for Olympic boat's maiden voyage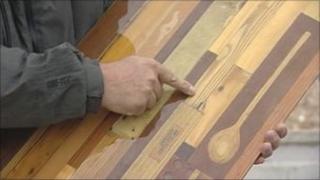 Five people from Sussex and one from the Isle of Wight have been chosen to sail a 30ft yacht along the south coast during the 2012 Olympics.
They were chosen from hundreds of nominees to become crew members on the boat as part of the Cultural Olympiad.
A 16-year-old boy from Surrey has also been given an internship on the boat.
The vessel is being built at Thornham Marine in Emsworth, Hampshire, from more than 1,200 wooden objects donated by people across the South East.
Michelle Die'tt, 25, from St Leonards; Steve Ashmore, 48, from Hastings; Kenneth Lyon, 50, from Arundel; Daniel Lane, 46, from Emsworth; Jerome Timmins, 27, from Bexhill-on-Sea; and Julie Wright, 41, from the Isle of Wight; were nominated by members of the public.
In addition, Harry Custance, 16, from Guildford, will assist the boat captain with maintenance and preparation both on and off shore during the maiden voyage.
Mr Ashmore, who was nominated by his wife, said: "When I heard about the boat project it immediately captured my imagination.
"To build a boat from people's stories is a wonderful idea illustrating a fascinating aspect of our relationship with the sea.
"To have been chosen to be part of the crew is a unique gift, a great opportunity and a real privilege."
The crew will work under various experienced skippers as the boat embarks on its maiden voyage, stopping at locations across the south coast where a festival of events will mark its arrival.
'Amazing adventure'
The six successful cadets will be fully trained and equipped for the journey, which will begin after the launch in Emsworth.
The route will be officially announced next month.
Donations for the boat were accepted as long as they were made from wood.
They have included family heirlooms, tributes to those who have died, a piece of Jimi Hendrix's guitar, relics of World War II and a piece of Brighton's West Pier.
The project has been lead by performance artists Gregg Whelan and Gary Winters, who work under the name Lone Twin.
In a statement, they said: "We were bowled over by all the nominations and pairing down to six was incredibly difficult but the chosen crew stuck out as making a great team.
"It has been brilliant giving people this opportunity and it will be an amazing adventure."