Ed Balls admits Labour faces a challenge in the East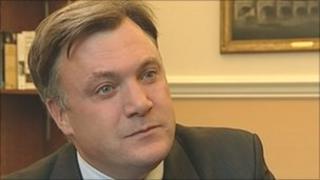 If anyone knows the challenges facing Labour in the East, it's Ed Balls.
The shadow chancellor isn't just a former Norfolk boy and an ardent supporter of Norwich City, he's also the party's "campaign tsar" in the East.
For the last six months he's been a regular visitor, addressing meetings and galvanising supporters in a region that's almost completely dominated by the parties of the coalition.
He is he first to admit that Labour faces an uphill struggle.
"We can't have a Labour government without winning in the East," he tells us in an exclusive interview.
"We've got to win the trust of people to get back into government."
'Difficult times'
It is an uphill task. The party, which once had 28 MPs in our region, now just has two, both in Luton.
It only runs four local authorities and has a couple of hundred councillors.
The party was pleased with its performance in this year's local elections - which saw it gain control of Ipswich Borough Council and pick up seats in rural areas where it has never had councillors before - but Labour had hoped to do better.
"We made real progress in places like Norwich and Cambridge and we did well in Luton and Ipswich" says Mr Balls, "but there is more to do" - particularly when it comes to getting more MPs.
"We need to win in Bedford, Waveney, Great Yarmouth and Norwich.
"I can't ever remember there not being a Labour MP in Norwich, that's got to change."
He says the party's strategy will be to "stand up for families across the region in difficult times".
'Lessons learnt'
Opinion polls suggest that Labour is not trusted on the economy by many voters who believe that the last government, in which the shadow chancellor played a leading role, is responsible for the present economic situation.
Mr Balls still maintains that Labour should not be blamed for a "global economic crisis".
He admits the last government should have done more to regulate the banks and that "we didn't spend every pound wisely".
He then quickly goes on to add: "It's not true to say that spending on teachers, doctors and nurses caused the global financial crisis.
"People want to know that we've learnt the lessons of the past and would do things differently."
He says the new government's honeymoon is already at an end. The current rise in unemployment and the worsening state of the economy is "an opportunity" for Labour.
"But I'm clear this is not something you can do in a few months.
"It will take time to win back people's trust."