Ed Miliband needs to deliver policies, not just ideas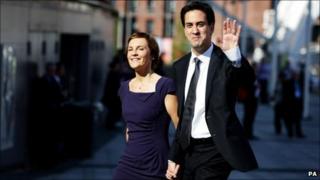 We heard lots of Ed Miliband's thoughts and ideas today, but not a lot of policies.
He's calling for "a new bargain for Britain" - the end of a what he describes as the something for nothing culture.
Mr Miliband says: "There is a quiet crisis which doesn't get the headlines.
"It's about the people who don't make a fuss, who don't hack phones, loot shops, fiddle their expenses or earn telephone number salaries at the banks."
A father of two, Mr Miliband says he understands their fears for the future, the doubts that perhaps their children may be less well off than them - with unaffordable house prices, few jobs and rising tuition fees.
That's why he says if he were in government now he would cut tuition fees from £9,000 to £6,000 by making better off graduates pay more and reversing the corporation tax for banks.
But that is only an aspiration. When asked whether it would be in the next Labour Party manifesto, he said he would like it to be, but couldn't promise.
For young people like 16-year-old Rory Weal from Maidstone, who stole the conference floor with his maiden speech and almost upstaged the shadow chancellor on Monday, they'll hope it is more than an aspiration.
They'll want to see policies which truly show a dividing line between Labour and the coalition.
Uncomfortable reading
As yet Ed Miliband has not been able to drive home that difference.
A new poll ahead of his conference speech made uncomfortable reading. Only 24% of respondents agreed with the statement that "he is a credible prime minister-in-waiting" - 57% disagreed.
Worse still, only 4% thought he'd be "good in a crisis".
Labour are keen to point to the economic crisis, as Ed Balls did in his conference speech, but the polls suggest the public don't think he's the man to see the country through it.
The biggest applause came when Mr Miliband attacked David Cameron on the NHS. He said "It's the oldest truth in politics. He knows it and now the public know it. You can't trust the Tories on the NHS."
That got a standing ovation - so much so he had to joke that he wasn't finished yet.
Mr Miliband's speech has gone down well here in Liverpool but the truth is he must appeal not just to the party faithful but to the wider public.
Has he done enough to make his mark?
If not this could become little more than a holding conference.