Wine growers predict a good year for English wine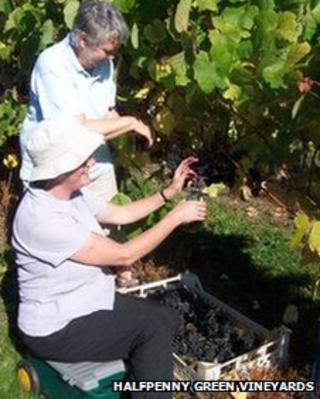 English wine used to have a questionable reputation, but in recent years it has held its own - even winning international competitions against French rivals.
As it continues to win over critics and consumers and favourable weather sees a strong start to the grape harvest, experts are predicting this year's wine will be one to look out for.
Martin Vickers has owned Halfpenny Green Vineyards in south Staffordshire since 1983.
He has just started the grape harvest of red varieties and said already he had recorded the highest sugar levels in the fruit since his business began.
He said this indicated wine with alcohol levels of 15% could be produced if the grapes were allowed to fully ferment.
"We use an early ripening variety which along with an early spring meant the growing season started three weeks early," he said.
He added an early winter followed by an early spring, a mostly dry summer and an Indian summer had had a "cumulative" influence on the crop.
"The amount of sugar is off the scale," he said.
Mr Vickers said in England producers were generally happy with alcohol levels of about 10% as they are allowed to add sugar to the wine to get it up to an alcohol level of 12%.
"At 15% we hope we have the intensity and colour of a full-bodied red wine which seemed beyond us in other seasons."
He said the rise in popularity of English and Welsh wine could be down to two factors: the wine performing strongly in international competitions and an increase in people wanting to buy local produce.
One company which is happy to stock English wine is Tanners Wine Merchants.
The company was founded in Shrewsbury in 1872.
Robert Boutflower, the firm's private sales director, said English wine has lacked body in the past because of the cooler climate.
He said: "The high sugar levels so far this year are very encouraging. An Indian summer is fabulous for English wine producers.
'Improved quality'
"In the past the problem was in a normal year it lacked body and you were left with a light fruity flavour and lots of acidity."
But he said he was not sure the increased interest in English wine was down to concern about buying locally.
"I'm not sure people have a conscience with wine but English wine has improved its quality - particularly in the south where sparkling wine has come on leaps and bounds."
Martin Millington is a director of Wroxeter Roman Vineyard, near Shrewsbury in Shropshire.
He grows his own grapes for wine and makes wine for other growers.
A good year
He said: "I've not long started the harvest but the sugars are higher than usual.
"I'm making wine for one or two other little vineyards and when I pressed the grapes I measured 96 ursulas of natural sugar which would result in an alcohol level of 13.1%.
"I've never heard of that personally in this country."
He said improvements in English wine were partly down to growers getting to know the vines better and also new varieties from eastern Europe reaching maturity.
He said: "The fall of the Iron Curtain was a big event for wine growers as new varieties came through.
"It takes 20 years to realise what you've got (from the new varieties).
"All together it does look like it's going to be a very good year."