Job fears as NHS Direct closes East Anglia call centres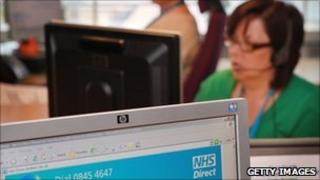 Three NHS call centres are to close in Norfolk, Essex and Suffolk prompting fears of more than 100 job cuts.
NHS Direct has announced the closure of its centres in Chelmsford, Ipswich and Norwich.
Unison said the move would hit not only East Anglia but have a nationwide knock-on effect for patients.
NHS Direct said no decision had yet been made over cuts among a total of 120 staff but pledged that "every option" will be explored.
Centres too small
NHS Direct said its action was was prompted by its landlord - the East of England Ambulance Service (EEAS) - issuing a notice to quit the Chelmsford centre, which employs 77 staff, by May 2012 and the Norwich base, where 27 people work, by September 2012.
It said the Ipswich call centre, staffed by 16 workers, would also have to close before May 2012 because it was heavily supported by the other sites.
EEAS said the number of calls it receives had increased by 15% over the last three years and that it needed more space in its call centres.
EEAS director of service delivery, Alan Murray, said: "It is unfortunate we have had to give notice to NHS Direct but our primary responsibility is to deliver a 999 service.
"We are working closely with NHS Direct to make sure this transition is as smooth as possible including altering our own plans to allow NHS Direct double the standard six-month notice period."
Last year the government announced it was scrapping the NHS Direct telephone service in England and replacing it with a cheaper alternative.
Working from home
Speaking about the closure of the three call centres in East Anglia, the chief executive of NHS Direct, Nick Chapman said: "There is much work we need to do to understand the full implications of these closures, before a final plan can be agreed by the Trust Board.
"Every option will be explored to redeploy those staff affected.
"We already have over 100 members of staff currently working from home permanently and there are sites in surrounding areas.
"No decision has been made to make staff redundant at this time."
Unison, which represents NHS Direct workers, said the government was also refusing to guarantee contracts for NHS Direct, or the 111 emergency service.
Unison general secretary Dave Prentis said: "NHS Direct staff are already pressed to breaking point during peak periods, when the call centres can deal with up to 30,000 calls a day.
"Less people on the phones will mean patients depending heavily on out-of-hours duty care and a rise in the numbers queuing at A&E.
"NHS Direct nurses will also struggle to find work elsewhere, with jobs being axed in the NHS."