Planning: the regeneration game?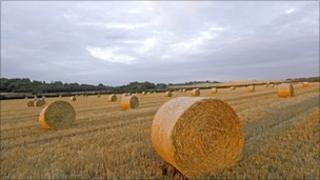 It takes some doing to make an enemy of the National Trust.
The custodian of the nation's stately homes and gardens is no hotbed of political debate.
But the proposed National Planning Framework has roused even them to an unprecedented display of anger.
David Cameron has repeatedly denied any suggestion that the countryside is about to be concreted over.
Concrete proposals
His Environment Secretary Caroline Spelman told me during the Conservative party conference that government proposals to stimulate the rural economy were not at odds with her longstanding commitment to preserve the green 'gap' between Birmingham and Coventry, named after her Meriden constituency.
The Campaign to Protect Rural England fear a relaxation of planning controls could mean open season for developers with designs on green field sites.
Ministers believe local referendums would offer a strong new democratic defence against the wholesale destruction of the countryside.
But the government's critics warn that cash-strapped local authorities would be unable to afford to make referendums a routine feature of their consultative armoury in other than exceptional cases.
That's a question I will put on this week's Politics Show to the Conservative MP for Halesowen and Rowley Regis, James Morris.
As a former chief executive of the Localis 'think tank' he is one of the architects of the government's 'localism' agenda: planning referendums would be seen as an important element of the much-vaunted 'bottom up' approach.
Also with us will be the Labour MP for Birmingham Erdington, Jack Dromey, who became a Housing Minister in the recent opposition reshuffle.
And I hope you can join us too, at the earlier time of 11.15 on BBC One on Sunday 16 October 2011.