Campaigners deliver HS2 petition to Downing Street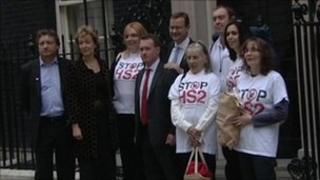 Campaigners opposed to the government's proposed high-speed rail project have handed in a petition to Downing Street.
The petition against HS2, which would connect London to Birmingham at a cost of £17bn, has about 108,000 signatures.
Stop HS2 campaign co-ordinator Joe Rukin said: "There is simply no case for HS2, environmentally or economically."
Birmingham Chamber of Commerce said it is "absolutely vital for economic growth outside of London".
The scheme would cut commuters' journeys from London to Birmingham to 49 minutes.
'Fat cats'
John Lamb, from the chamber, said: "Clearly the business community is behind the development within the core cities of the UK, including Birmingham."
He said that as many as 400,000 new jobs would be created by the scheme, with the figure rising to one million in the wider urban areas.
Mr Rukin said: "It will do none of the things which have been promised and is simply a poorly thought through fast train for fat cats - an unaffordable luxury which this country can ill-afford at this time of cuts."
Dan Byles, Conservative MP for North Warwickshire and Bedworth, is also against HS2 on both national and local levels.
"I'm opposed to it nationally because I don't believe that we can afford it and I don't believe the business case stacks up," he said.
"There is real evidence that we could see economic activity drained away from the West Midlands towards London.
"The physical impact in my constituency will be quite considerable."
HS2 needed
Solihull Liberal Democrat MP Lorely Burt has previously said the economic case for the whole region was overwhelming.
"If you look at other countries, they have raced ahead of us, literally, in the provision of high speed rail," she said.
"We really do need this."
The chair of Stop HS2, Penny Gaines, said the delivery of the petition had gone well and that she was confident of success.
Ms Gaines said: "We had several MPs with us and we've handed in a box full of petition signatures to the custodian who takes petitions in.
"We think we've got about 108,000 signatures in total. We've got 52,000 on an online petition which we had to print off and take in.
"We were still getting them in this morning to take so we haven't got the final tally yet.
"We think we've got a good chance of succeeding."
The HS2 route is set to run through rural parts of Buckinghamshire, Oxfordshire, Northamptonshire, Warwickshire and Staffordshire.
A further route has also been proposed extending HS2 into Manchester and Leeds.
The petition was initially started to secure a parliamentary debate in the main chamber, which is due to happen on Thursday.