Ex-soldier Karl Hinett aims for Everest challenge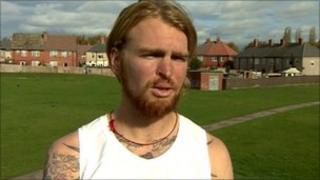 Six years ago Pte Karl Hinett was pulled from a burning tank in Iraq.
Along with his Staffordshire Regiment colleagues, he had been taking part in a rescue mission to free two British soldiers who were being held in Basra.
He spent 11 days in a coma as medics fought to keep him alive, before being flown back to the UK where he was treated for his extensive burn injuries at the old Selly Oak hospital in Birmingham.
After leaving the army in 2008 to retrain as a gym instructor, the 24-year-old from Tipton made it his mission to give something back to the medical teams who cared for him.
Having announced earlier this year he would run 52 fund-raising marathons, that number has now risen to 100 races and to top it off, the hope of climbing Mount Everest.
Mr Hinett completed his first one in Zurich, Switzerland, on New Year's Day, and has already run 36 races this year all around the world.
He funds all the marathons himself and has raised in excess of £10,000.
"I'd never run marathons before, but after I got injured, I decided to run the London Marathon.
"It was a personal challenge. Even though I was injured and damaged, I wanted to do something I'd never done when I was 'normal'.
"Once I found out I could do other things, it was easier to move on from my injury, mentally as well as physically.
"Because I feel really strong, and I'm really enjoying the marathons, I just feel like I can give a lot more for the hospital."
Over the last few weeks, he has had to combine his marathon running with endurance and climbing trials in the Brecon Beacons in Wales and Mont Blanc in the Alps.
But the extra effort has paid off since he has been selected to be part of the team hoping to raise money for the army charity Walking With The Wounded by scaling Everest.
After the success of the North Pole expedition, which Prince Harry took part in, the charity wants to put four wounded servicemen on the summit of the mountain, next May.
'Life is fragile'
Mr Hinett has been nicknamed Captain Birds Eye by the group after growing his hair long and sporting a beard.
He said that because he is the only one of the group that has left the army, he is able to "rebel" and do the things he could never do when he was a soldier.
The team has just returned from the Himalayas, where he was one of seven climbers to reach the summit of Manias (which aptly means Mountain of the Spirit) - the eighth highest mountain in the world.
"It was indescribable," he said. "It took us six weeks to climb the mountain and all that hard work paid off.
"The guys who went are such a good bunch... sticking together, helping each other through very difficult times.
"There are days when I miss the army lifestyle, but this is the way it's all worked out, and things happen for a reason.
"I have a better outlook on life. It is a pretty fragile thing. I try to live and experience as much as I can."
The selection process for the Everest challenge is ongoing and he will find out next week if he has made the final four to attempt the climb.